2023 MEMBERSHIP RATE PAGE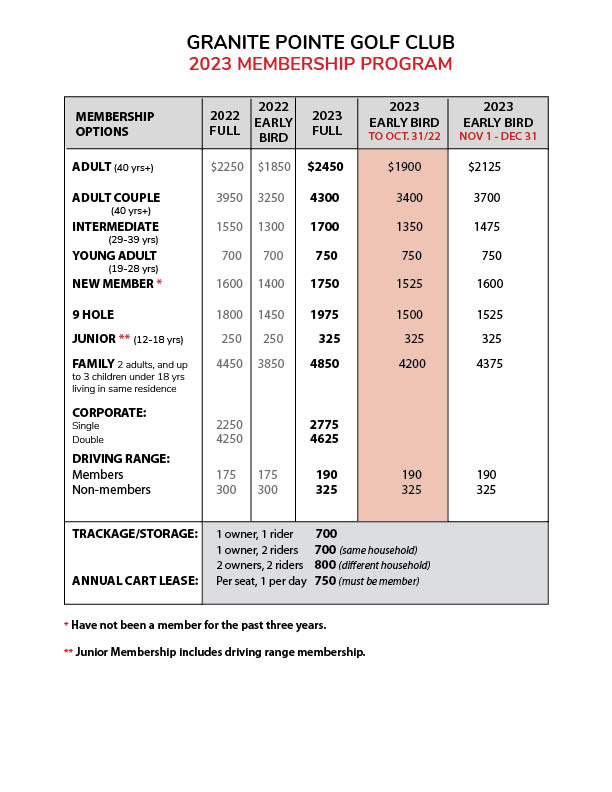 Keep updated on our Facebook page: https://www.facebook.com/granitepointegolf/
2022 SEASON SUMMARY
As we approach the wind up of another golf season the Staff and Board wanted to reach out and say thank – you for your support through a year that saw many changes as we try to grow forward through our challenges. We wanted to share with you some of the challenges we have faced in the background this year so you are aware of the work done to prepare us for an even better year next year. It goes without saying that this was a most challenging weather year from the relentless rain in spring to the unending 30 degree plus days we battled in the summer. Both of these conditions created serious issues for our grounds crew, but at the same time exposed opportunities to get some changes made that will pay off in the future. These may not be the most glamorous on course changes, but all were necessary once they exposed themselves. To keep you informed here is some of the projects undertaken this year, and with these done we feel we are in a position to focus on more improvements on the course next year.
1. Complete waterway project at the upper dam site, install 2 large valves and piping allowing us
to divert water entering the property as we choose whether for irrigation or down the natural
watercourse down 16 or both.
2. Rebuild bunker in front of 16 green re-establish drainage and install fresh sand
3. Rebuild fairway bunker hole 6 excavate deleterious materials re-establish drainage and install
fresh sand
4. Re pour cement in pumphouse floor and install new compressor for irrigation system. Install
cooling fan and re insulate bldg.
5. Install 2 new pressure reduction valves on hole 10 and 15 reducing pressures on the lower end
of golf course resulting in fewer irrigation breaks and flooding
6. Excavate and install fresh drainage tiles replacing plugged one on the left side of hole 1 helping
to let the fairways drain a little better and dry up swampy area in the left rough.
7. Build a 7500 sq ft greens nursery between holes 9 and 10. Remove overburden, till base, install
sand growing medium, install (modern)automated irrigation
PROJECTED FOR 2023
While we cannot commit to a timeline we would like the members to know that the completion of the turf nursery this fall allows us to look forward to our 2023 projects and at the top of that list will be the relocation and construction of a new green for #12, an improvement long overdue. This project will be in addition to the start of our tee box rejuvenation plan, a 5 year ongoing plan. Of course as the property development progresses, further changes will be involved starting with the completion of the first of the new uphill holes.
PROPERTY DEVELOPMENT UPDATE
The sale of the property will hopefully close with a purchaser in the month of October 2022 agreements are being drafted currently. It has been challenging to finalize this sale as the property is still in use by the society and will take time for the society to be able to move off the property in full but developers need to begin to use the land at the same time. Nominal leases of portions of the property have been negotiated as part of the sale and the board is currently working with the City and surveyors to finalize the property line adjustments needed to provide the Society with the lands necessary to adjust the golf course as laid out by the golf course architects. We hope to be able to complete the sale very soon which would pay the debts off of the society and provide funding to start to complete what is needed to move off of for the first stages of development but again we have negotiated to continue to use other areas as needed if development is not planned in these areas immediately.
OPERATIONS UPDATE
We have managed to have a successful 2022 despite the weather challenges we encountered this year. We would like to thank our members and other clients for their support of our new food and beverage model and hope that the levels of service and our value menu selections served to make your experiences positive this season. We would like to thank the staff for their seemingly unending positivity this season as they were all asked to adapt to a system that placed many new challenges for all of them, they answered the bell and we all benefitted from their enthusiasm. We introduced a number of new events this year and you will see on our 2023 calendar that we are looking forward to a season next year where these events will continue to improve, thanks to our sponsors and organizers. As we move into the SIMULATOR SEASON our plan is to keep the snack bar open on a limited basis basically the same as last year, we will communicate details in the near future.
VOLUNTEERS
To our volunteers we extend a large thank you, from the construction needed at the new pumphouse, to the flowers and gardens around the clubhouse, to the fairways crew keeping the shortgrass playable we acknowledge your valuable contributions to our course, we needed you and you stepped up. Thank you.
LOOKING FORWARD TO 2023
We are so lucky to have this course in our back yard at a time when recreation facilities are being abandoned at an ever increasing rate, and we owe a debt of gratitude to the tireless volunteers over the decades that have given their time and expertise as board members and caretakers to keep this course alive since the early 1900s. The current board and staff are again excited to welcome you all back next year for another season of "trying to get better" at a game that never loses, just as the board and staff welcomed their members back 50 years ago. So take advantage of our EARLY BIRD MEMBERSHIPS before the end of October and start looking forward to Spring 2023.